Couples Group resumes on site this Sunday, March 20th at 6pm
Main Events Hall
No social after at this time; must adhere to COVID restrictions and be fully vaccinated.
---
Doors open to alumni 7:30am Wednesday, March 16, 2022
We look forward to seeing you!
In order to minimize any chance of having another outbreak requiring us to have to close to new admissions and alumni, we need your help.  We are requiring that each of you:
BE FULLY VACCINATED
WEAR SINGLE MEDICAL GRADE MASK or N95
KEEP SOCIAL DISTANCE 6 FEET
COMPLETE A RAPID ANTIGEN TEST (R.A.T.) every Monday and Thursday – RESULTS MUST BE NEGATIVE.  Alumni will be provided with 2 test kits containing 10 tests the first time they are back on site.  We anticipate that this will be a big enough supply to last until April 27 when the province is planning to lift all restrictions. 
Each Rapid Antigen Test kit includes instructions and 5 days' worth of testing supplies. 
BE PATIENT – Please ensure you wait the full 15 minutes to check the results.
If your R.A.T. test result is positive – please contact Medical for further instructions.
If you have a negative R.A.T. result but you had contact with a person who is ill please DO NOT come on site for 3 days.  On the 4th day, please do a Rapid Antigen Test – if you have a negative result, you are welcome back.
Reading test results: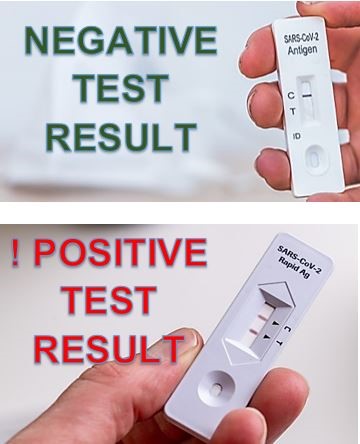 As April 27 approaches and as we get further direction from the province and the Health Unit, we will look at easing the requirements for being on site.
Thank you for your continued support and WELCOME HOME!